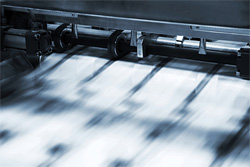 Helping Businesses save Money and Beat the Recession...
In the present financial climate Companies are trimming their overheads to maintain a competitive edge in the market place. The print budget is often the first target for savings and this is where Amber Business Services can help.
Amber Business Services are Print Managers and Brokers who work alongside businesses and private individuals to maximise their print budgets. We do the leg work to identify the right printers so you get the highest quality at the best prices.
We undertake to manage your print requirements and save you money on your annual print budget. As a 'brokerage' we can tap into sources of print that are only open to the trade to give you the very best prices without compromising quality. We also use our considerable knowledge to act on your behalf if, in the unlikely event, you are not happy with the products supplied.
So you can relax in the knowledge that your printed materials will arrive on time, quality assured and at superb prices.
To find out more or get a free personal quotation contact Dave Pocock on 01635 865029.
We are here to serve you!